Brisbane Cubbies Direct to Public from Manufacturer: Delivered Flat Pack or Pickup
We're a local manufacturer supplying cubbies to the public at discounted prices. Each cubby is available for pickup in Brisbane for DIY assembly – no cutting required. If you prefer to have us install the cubbyhouse on your property anywhere in Brisbane, Sunshine Coast or Gold Coast- we offer this service. Luxury outdoor play rooms for children availale.
Custom Cubbies, Themed Cubbies or Standard Designs
Custom cubbies made in Brisbane. Specify your preferred styling for verandahs, number of windows and placement, size, height, width of sheltered porch and more. Choose your own paint color.
Themed cubbies available with superhero colored paint, accessories and styling. Timber outdoor play rooms for children can be customised and designed to suit your requirements. Customising a cubby also includes elevation, open or enclosed side walls, and skylights for brighter interiors.
Browse our range of cubby houses and see our standard designs, available in a variety of sizes and elevations.
---
Cubbyhouses for Everyone
We build and deliver weatherproof, wooden cubbies Brisbane customers love. They're fully storm proof with a Colorbond roof. Also they provide endless opportunities for learning, and development in a safe, enclosed outdoor play-space.
Australian Cubbies
Will's Cubby's use ACQ (child-friendly) non-imported treated pine cladding for cubby houses to outlast the extreme weathers of Brisbane. In addition to cubby durability, Colorbond roofing is used on cubbyhouse roofs ensuring your cubby will last.
Generous Interior Height
After some positive customer feedback, the wall heights of cubbies have recently been increased to 1.5m high to allow for easier access for adults. Easier to clean, more comfortable to move around in and no banging of heads on the ceiling.
---
Have a look through our galleries to see a range of customized cubbies, kennels and sheds in Brisbane .
Please call anytime or feel free to contact via our Contact Form
Don't be fooled by cheap imports!
---
Why People Choose Will's Cubbies & Cabins
Will's Cubbies and Cabins aren't Brisbane's cheapest high quality supplier of unique outdoor buildings, dog kennels and kid's custom cubby houses for no reason; If you find a cubby house of simular size and quality in Brisbane, well also be able to price match it and beat it!
Custom Cubby Specialists
Custom made cubbies for your kids and pets are cladded with ACQ treated pine which comes from completely sustainable as well as renewable Australian resources. Since all our timber is supplied locally, our cubbies dont have to go through the fumigation process of international customs.
Colorbond Roofing
In addition to cubby safety we use a Colorbond roof without exposed sharp roof edges with your child's safety in mind. Roofs are available in a range of colors to suit the Australian landscape. So you'll have a cubby that's a delight to look at, for years to come.
---
Here are some reasons why people prefer Will's Cubbies and Cabins in Brisbane:
Custom cubbies at wholesale prices
Higher cubbie wall heights
Easy assembly with 9 pre-assembled pieces
Delivery anywhere in Brisbane
5-Year Guarantee on roof leaks and defects
Superior 18mm treated-pine cladding
Our Products include:
Cubby Houses
Kennels
Cabin Studios
Garden Sheds
We also deliver services to the following areas:
---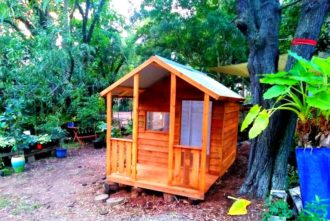 ---
Cubby Houses For Sale
Quotes for your custom cubby given within 24 hours!
A small deposit is required to secure your order. Projects are completed in 1-2 weeks for kennels, cubbies and small sheds, and within one month for studio / cabins.
Cubby Houses Brisbane
Kennels, cubbies and small timber sheds can be delivered and installed at reasonable prices. Alternatively they can be picked up in Camp Hill. They are pre-fabricated in nine complete pieces and take a couple of hours to screw together without you having to build it from scratch, and no need for cutting anything!
Popular Cubbies and Sheds
Will's Cubby's delivery & installation charges in Brisbane
Will's Cubbies and Cabins are made using child friendly materials and non-imported durable building products bought from Australian wholesalers – hence the more affordable prices!
We install cubbies and sheds in all Brisbane areas such as Narangbah, Chermside, Strathpine, Clontarf and Bulimba

Design Your Own Custom Brisbane Cubby House and Kennel
We make cubby houses in Brisbane tall enough that even adults can stand in them! If you're after a cubby that's weatherproof and long-lasting, then a cubbyhouse from Wills Cubbies and Cabins is just what you've been searching for.
Perhaps your kids have friends with an outdoor cubby house and they spend all their time at the neighbours. That all will change when the kids see the new cubby house in your backyard
Ideas for kid's outdoor cubby houses are limitless, which is why Will's Cubbies give you the chance to customize your cubby house, and being able to add as many accessories as you want such as cubby verandas, doors, windows, coloured roofs… all while keeping your budget in mind!
Thank you for spending some time visiting WillsCubbiesandCabins.com.au. Your Brisbane cubby house is just a call away. We're looking forward to your call!
Lots of Styles
Cubbies can be built at ground level, or on solid timber bearers. If you live on the side of a steep hill, that's no problem. We can even design a tree house cubby for you.
We'd love to hear from you!
Complete the form and we'll get back to you quickly.
Outdoor wooden cubbies built and supplied throughout Brisbane and suburbs. Select from self-assemble for DIY- these are flat-packed and delivered. Or opt for professional installation.
Buy direct from us and save money. All orders are confirmed before you need to pay a deposit.
Christmas production deadlines are approaching. To avoid disappointment- order soon.