Kids Cubbies, Sheds & Kennels in Brisbane's Southside
Will's Cubbies and Cabins have been making cubby houses, garden sheds, cabins and dog kennels in Brisbane since 2008, and continue to supply cubbies and sheds to areas including Capalaba, East Brisbane, Redland Bay, Loganholme, Carindale and Browns Plains
To see the best-seller display cubby in Camp Hill Brisbane, please call us anytime or feel free to contact via our Contact Form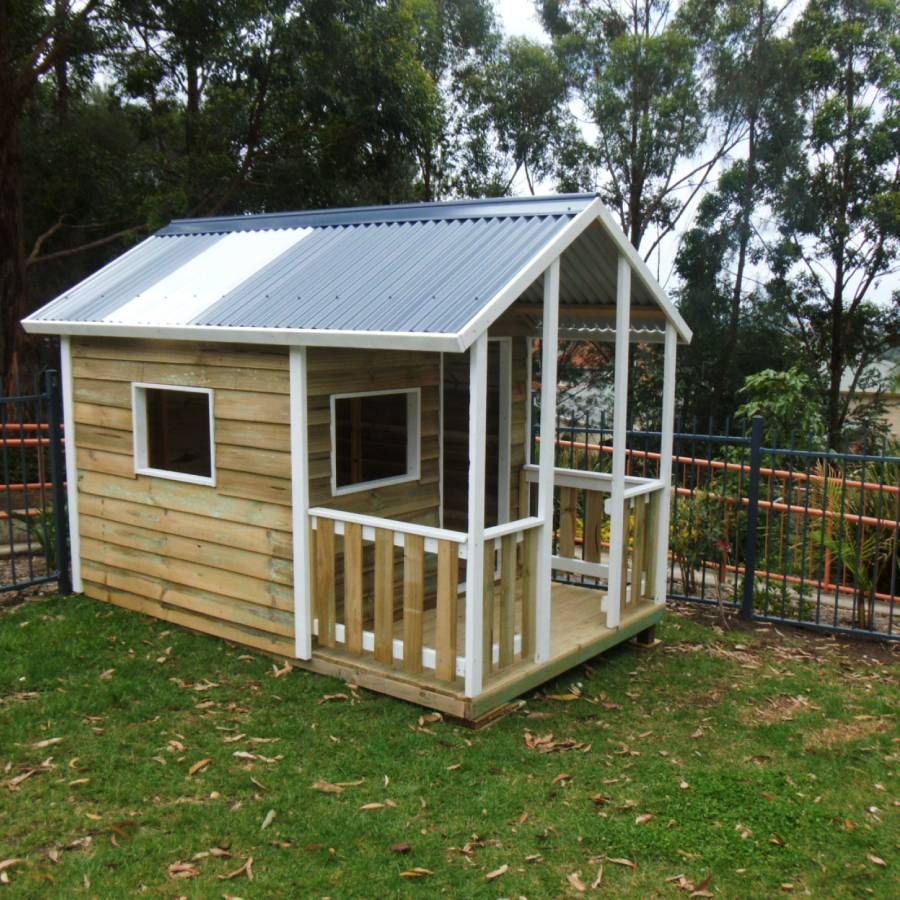 ---
Click here to view our Cubby House Range in Brisbane
All our cubby houses are made with the highest 12mm quality treated pine. They are durable and designed to withstand the harshest conditions even in Brisbane and Queensland.
Will's Cubbies come in pre-assembled panels with easy installation instructions. We also provide delivery and installation in Brisbane.
Preserving your cubby to outlast Brisbane's weather conditions
We can pre-stain your cubby or shed or supply you with the very same stain that we use (Resene) which is at the high end of the range in terms of quality and durability. While most cheap budget stains need restaining every 6 months, we guarantee our stain will last 5 Years before fading.
View our Garden Shed range, installations avaliable in Brisbane
These are our most popular garden sheds after 10 years of building heavy duty timber sheds for backyards. We also have a range of additions such as perspex windows, door options, skylights, and wall height changes all available on request. For anything bigger than our standard shed range, you may be interested in our cabin studios.
Shed walls consist of 70mm x 35mm framing and 12mm cladding, so the walls are easy to carry and wont buckle and twist when transporting them.
Doors open outwards, meaning it is backed by a solid door jamb which makes it secure and impossible to kick the door in.
If you're in Brisbane you can also pickup your shed in Camp Hill and install yourself – no cutting required!
Quality built timber garden sheds are the perfect solution for your storage needs in your backyard because Australian made sheds are completely waterproof.
Australian made sheds provide endless storage options and are suited to the Australian climate – in fact, we are so certain our sheds will last even in Brisbane's humid climate that we offer a 5-Year warranty on the Colorbond roof not leaking, and our extra solid 12mm thick treated-pine ACQ cladding not splitting so long as you paint or stain it.
Don't be fooled by cheap imports!
---
Create your own outdoor Cubby, Shed, Kennel or Cabin
If you find an Australian made timber shed, cubby or kennel in Brisbane that is cheaper then just let us know and we'll see if we can beat it!
Our cubby houses have many creative designs, so when you order you have the option to make certain customizations and placement of windows / door, addition of cubby verandas, doors, different coloured roofs…And all while keeping your budget in mind!
Cubby Houses For Sale in Brisbane's Southside delivery & installation avalible.
Quotes for your custom cubby given within 24 hours!
A small deposit is required to secure your order. Projects are completed in 1-2 weeks for kennels, cubbies and small sheds.
We welcome all customers in Brisbane's southside from Cleveland, Redbank Plains, Logan, Capalaba, Wynnum, Beenleigh, Toowoomba, Ipswich and Manly.
To view our display cubby house in Brisbane's Suthside please visit our Display page for more info
We also deliver services to the following areas in Australia:
---
Thank you for spending some time visiting Wills Cubbies and Cabins.
Your Brisbane's Southside cubby house is just a call away
We're looking forward to your call!